"AZV" - HIGHLY CONDUCTIVE ANODE FILL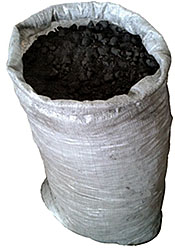 AZV - is a highly conductive anode fill used in anode-type grounding rods for lowering contact anode-to-ground resistance , longer service life of anode grounding rods. AZB is recommended for anode-type grounding rods installed in high-ohmic types of soil.
The main component of AZB is a special grade of corrosion-resistant graphite, used as the main component of AZK anodes. The resistance of AZB is several orders of magnitude lower than that of KMA anodes, coke or other types of carbon-based fills.
Use of AZV ensures the following:
- lower anode-to-ground contact resistance;
- drainage of soil in anode vicinity;
- lower rate of anode ground rod dissolution;
- greater surface area of anode grounding rods
Characteristics
 
Values

Main constituent
 

Graphite


Size of fraction:

5 – 35 mm
0 – 5 mm

 

 

50%
50%


Conductivity
 

8,0*10-6
AZV is delivered to users in bags of 30 to 50 kg weight or on pallets (300 to 1000 kg weight). The weight of delivery shall be calculated on anode fill lot size. AZV is transported by any means of transport as specified by current regulations. AZB storage: in storage rooms in manufacturer's packing. Storage time is unlimited.